Junior Newsletter – September/October
September was a quiet month for the Junior section as golf was replaced by school and the weather started to change. The September Stableford was won by Rio Saigal (George Castle 2nd, Lewis Slade 3rd) and Ethan Ashby won the October Stableford (Lewis Slade 2nd). Rio also took part in the Captains Drive-in Shotgun to welcome new Club Captain, Nick Rice, and with his playing partners (including his dad, Raj) were the overall winners – well done Rio!
The highlight of the month for the junior section was the visit from the juniors at Royal Antwerp Golf Club – previously postponed from August. This is a prestigious competition that has been taking place between our two clubs for nearly 30 years. It is played in the style of the Ryder Cup with matches over 3 days in different formats (fourball better ball, foursomes and singles) and as the current holders we were keen to retain our title. Despite some awful weather, and almost non-stop rain – all the matches were completed and Moor Park ended as comfortable winners. Next summer a team of juniors will travel to Antwerp for the return match – it is a very enjoyable trip and a great experience so  really worth getting involved in. Huge thanks to Jackie and Jenny for all their hard work and to those who hosted players and made them feel welcome.
For those juniors who haven't played in the last month or so, you are probably aware it is now Winter Rules (if you are not sure what this means you can ask in the pro-shop or post a question on our group chat) and no buggies are allowed until further notice. Let's hope there is a bit less rain next month and we can look forward to some winter golf over Christmas to finish the year.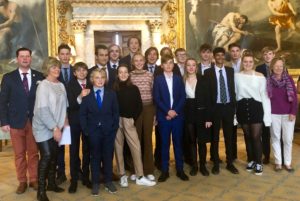 Katie
Junior Captain