Ranked in the 'Top 100' Golf Courses in England, the High Course welcomes a number of high-profile local, national and international events.
Annually, we are proud to host the prestigious Hertfordshire Stag and The Carris Trophy (English Boys' Open Strokeplay Championship) was launched here in 1935. The Trophy returns to its home Club every 4 years  and is played on the High Course. The Carris Trophy attracts an international field of young talented people with past winners including Sandy Lyle and Justin Rose.
Moor Park has also been the setting for the Bob Hope Classic, the Spalding Silver King, Uniroyal, The Four Stars Pro-Celebrity, Woolmark Ladies European Match Play Championship and the Ladies British Open.
Please click on the hole number below to see its specific information.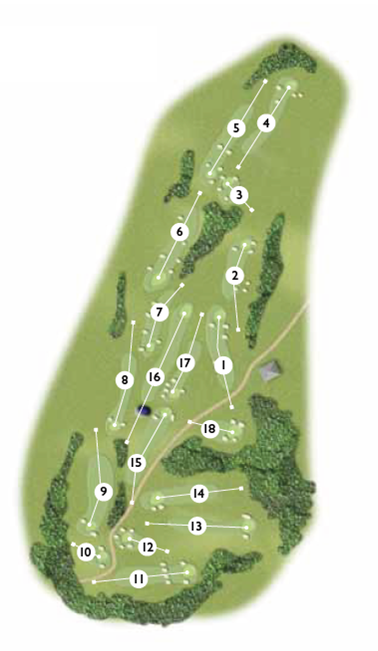 | HOLE | BLUE YARDS | WHITE YARDS | PAR | YELLOW YARDS | S.I. | LADIES PAR | PAR | S.I. |
| --- | --- | --- | --- | --- | --- | --- | --- | --- |
| 1 | 400 | 371 | 4 | 361 | 7 | 301 | 4 | 9 |
| 2 | 453 | 418 | 4 | 403 | 3 | 390 | 5 | 11 |
| 3 | 191 | 165 | 3 | 153 | 15 | 143 | 3 | 17 |
| 4 | 446 | 426 | 4 | 420 | 5 | 414 | 5 | 5 |
| 5 | 334 | 334 | 4 | 325 | 9 | 283 | 4 | 13 |
| 6 | 526 | 493 | 5 | 480 | 11 | 464 | 5 | 3 |
| 7 | 382 | 362 | 4 | 347 | 13 | 273 | 4 | 15 |
| 8 | 494 | 467 | 4 | 450 | 1 | 372 | 4 | 1 |
| 9 | 485 | 472 | 5 | 460 | 17 | 383 | 4 | 7 |
| OUT | 3711 | 3508 | 37 | 3399 | OUT | 3023 | 38 | |
| 10 | 145 | 145 | 3 | 133 | 18 | 121 | 3 | 16 |
| 11 | 393 | 393 | 4 | 373 | 8 | 339 | 4 | 4 |
| 12 | 210 | 210 | 3 | 194 | 4 | 142 | 3 | 10 |
| 13 | 540 | 507 | 5 | 471 | 12 | 427 | 5 | 14 |
| 14 | 458 | 435 | 4 | 417 | 2 | 371 | 4 | 2 |
| 15 | 470 | 450 | 4 | 424 | 6 | 367 | 4 | 8 |
| 16 | 517 | 517 | 5 | 487 | 16 | 441 | 5 | 12 |
| 17 | 465 | 400 | 4 | 386 | 10 | 355 | 4 | 6 |
| 18 | 152 | 152 | 3 | 140 | 14 | 123 | 3 | 18 |
| IN | 3350 | 3209 | 35 | 3025 | IN | 2686 | 35 | – |
| OUT | 3711 | 3508 | 37 | 3399 | OUT | 3023 | 38 | – |
| TOTAL | 7061 | 6717 | 72 | 6424 | TOTAL | 5709 | 73 | – |