The West Course, although shorter than the High, demands an exacting approach from the golfer to reach the tricky greens in regulation.
Both the High and the West Courses are managed in the same meticulous way with greens of exceptional quality throughout the year.
Please click on the hole number below to see its specific information.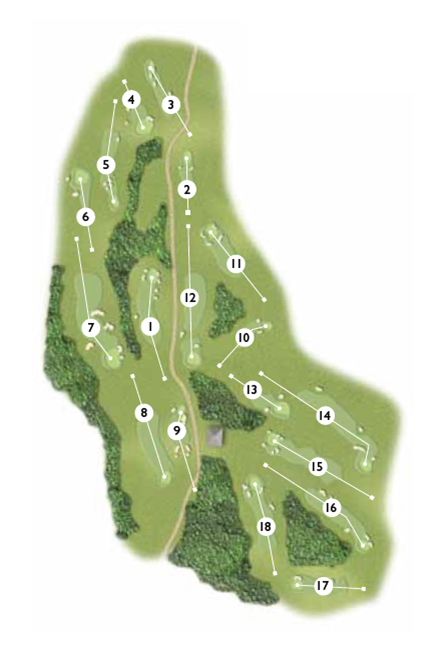 | HOLE | WHITE YARDS | PAR | YELLOW YARDS | S.I. | LADIES PAR | PAR | S.I. |
| --- | --- | --- | --- | --- | --- | --- | --- |
| 1 | 329 | 4 | 323 | 11 | 312 | 4 | 11 |
| 2 | 198 | 3 | 187 | 9 | 197 | 3 | 13 |
| 3 | 329 | 4 | 322 | 5 | 285 | 4 | 3 |
| 4 | 178 | 3 | 174 | 15 | 159 | 3 | 15 |
| 5 | 394 | 4 | 388 | 3 | 381 | 5 | 7 |
| 6 | 162 | 3 | 147 | 17 | 110 | 3 | 17 |
| 7 | 449 | 4 | 437 | 1 | 409 | 5 | 5 |
| 8 | 396 | 4 | 387 | 7 | 330 | 4 | 1 |
| 9 | 244 | 3 | 185 | 13 | 197 | 3 | 9 |
| OUT | 2679 | 32 | 2550 | OUT | 2380 | 34 | |
| 10 | 258 | 4 | 231 | 14 | 182 | 3 | 4 |
| 11 | 340 | 4 | 326 | 6 | 279 | 4 | 10 |
| 12 | 478 | 5 | 474 | 12 | 417 | 5 | 12 |
| 13 | 151 | 3 | 140 | 16 | 132 | 3 | 16 |
| 14 | 515 | 5 | 476 | 4 | 429 | 5 | 8 |
| 15 | 434 | 4 | 421 | 2 | 408 | 4 | 2 |
| 16 | 395 | 4 | 385 | 8 | 375 | 4 | 6 |
| 17 | 267 | 4 | 236 | 10 | 229 | 4 | 14 |
| 18 | 316 | 4 | 308 | 18 | 271 | 4 | 18 |
| IN | 3154 | 37 | 2997 | IN | 2722 | 36 | – |
| OUT | 2679 | 32 | 2550 | OUT | 2380 | 34 | – |
| TOTAL | 5833 | 69 | 5547 | TOTAL | 5102 | 70 | – |